rent your 4x4 wheel tent
Karibu!



With Tanzanian Pioneers you'll be able to enjoy an unforgettable journey through Tanzania, one of the most beautiful countries in the world. 
Cross the Massai country in one of our Land Rover Defender 110 which have been customized for safaris and camping.
Discover the beauties of Tanzania like the Serengeti National Park or the Selous Game Reserve. Experience the fascinating wildlife, breathtaking landscapes and wonderful beaches. One of our experienced local drivers can accompany you, if desired.
Our Land Rovers come fully equipped with everything you need for a journey beyond the well-trodden paths: roof tents, complete camping equipment including a cooker, a water tank, a fridge, GPS, a radio with an adapter for iPods, and much more. The equipment enables you to be out in the bush for several days without forgoing the comfort you appreciate - thus the cars are ideal for camera teams and researchers as well.
If you prefer traveling from one lodge to the next we can organize accommodations for you.
Just let us know what your dream holiday should be like. We will arrange  the right package for your dream to become reality! "Feel Free Like a Massai"
The Land Rovers 110 rented out by Tanzanian Pioneers are just perfect for safaris and longer trips in the bush. They have been purpose-built for safaris and can accommodate up to four persons. Two roof tents for two persons each guarantee you safe and comfortable nights. In case of only two persons renting the car, one roof tent can be removed.
Our Land Rovers are based in Arusha which is a good and quick starting point for safaris to the most famous national parks.
Before your departure we will train you how to drive our cars in order to prepare you for your safari and enable you to manage even difficult terrain. Of course, a driver can be booked with the car as well. Please note that in this case it is only possible to book the car for three persons.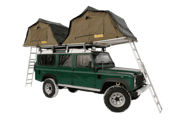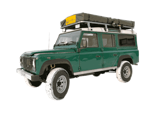 When going on a safari with us two things are guaranteed: you always sit in the front row and a window seat enables you to observe everything closely. If you prefer a guided tour instead of exploring Tanzania's phenomenal flora and fauna on your own in one of our Landrovers, we will happily create a special offer for your individual needs. There is a big assortment of possibilities to choose from: you can go camping or stay in luxurious lodges, you can either spend your days at the magnificent white beaches of the Indian Ocean or climb Africa's highest mountain, the Kilimanjaro.  You can drive around on your own or you can choose to be driven, you can go trekking or mountain biking, depending on how exciting or relaxing a trip you would like to have. No matter what you decide on it is going to be an unforgettable journey. 
Just tell us about your personal preferences and where to put the main focus when planning your trip to Tanzania and we will take care of the rest.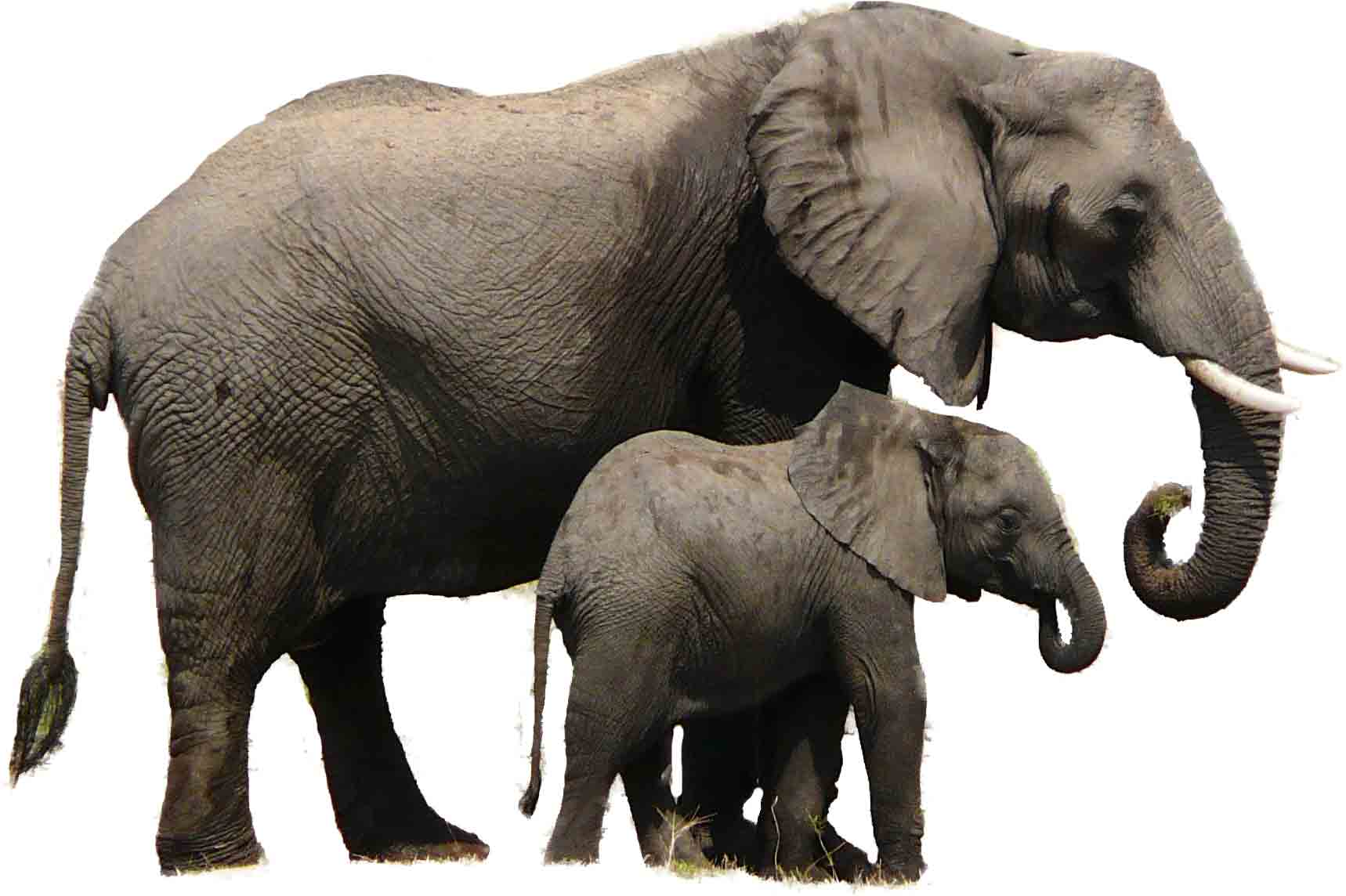 Examples for journeys:
Land Rover Equipment
Tanzanian Pioneers specially designed there Land Rover  for self   drive Safaris.  The Land Rover has everything  you  need while  you  are  on  the  road. For more comfort we  did changed  the suspension and  we  put  in  double  shocks for  every tire. We even  changed  the  interior,  we  took  out  the rear bench  and  changed  it  for more  comfort  to  have 2 single seats.
There are 2 Gel Cell Battery´s so there is always power left. For more safety we have 2 extra headlights on the roof rack for good sight wile driving at night. We have a work light in the rear, Led Lights  for more light in the car, the car Radio has input for mp3 player, 2 extra 12 volt power sockets in the back, 2 MAG Light charger plus MAG Light,a fridge is on board and a Water Tank is installed.
The Land Rover has 2 roof tents each is for  2 persons ,so you can put up the tents where ever the car fits. 
We do rent out a GPS with good maps for east Africa,so you can never get lost driving trough the Busch.
Prices
Land Rover:
We charge 1,10 US Dollar +18% VAT per km for the Land Rover with a minimum average distance of 100 km per day over the period of use. We provide the vehicle full of fuel and require it to be returned full. 

The Land Rover has a full comprehensive coverage with a co-payment of 350 USD. In case of accident, the insurance does not cover the accident fees of the National Park and the transport which combined comes to about 750 USD that we claim from our clients.

We do offer our clients a full coverage that covers all costs mentioned above (the 350 Dollar and the 750 Dollar). We charge for this 12 USD per day, maximum charge 100 USD per Safari.
Driver:
If you wish a driver to accompany you - in which case he is also a guide for the National Parks. We charge 35 USD per day for a driver/guide.  It is understood that when camping the Driver/Guide will assist with the tasks around the camp and will also share his meals with the clients.  He will have his own tent and bedding with himself.  When clients are staying at other locations on their travels then the cost for  suitable accommodation and meals for the Driver/Guide will also be covered by the client.
GPS:
We rent out a GPS with good maps for East Africa, price per day is 3 dollar +18% VAT and Min rent is 10 Dollar.
Camping equipment:
For adults we charge 6 USD per day which covers all the below mentioned except the GPS.

For children under 16 we charge 3 USD per day.
About Tanzania

Treat yourself to an unforgettable journey through the land of unmatched splendor. Located on the Indian Ocean, Tanzania is blessed with many natural wonders. Within its borders lies Mount Kilimanjaro with an elevation of 5895 meters. The Olduvai Gorge located in the northern part of the country is considered the cradle of humanity. The famous Serengeti, which in the language of the Maasai means "the endless plains," is a world heritage site.   At nearly 15,000 sq. km., extending from northern Tanzania to southern Kenya, it is one of the world's largest parks. Africa's highest predator density is found in Ngorongoro Crater, also a world heritage site. Tanzania is also home to a third world heritage site, the Selous Game Reserve, which encompasses an area of over 50,000 sq. km. Tanzania contains numerous lakes within its borders.  Lake Victoria, Africa's largest lake, lies largely in northern Tanzania.  Lake Malawi, with it's crystal clear waters, is to the south.  Located on the western border is Lake Tanganyika. The Indian Ocean, along the eastern coast, offers relaxation on tropical, palm-fringed beaches. Tanzania's bustling commercial capital is Dar es Salaam or "Harbor of Peace".  Home to about three million people, it is known for one of the finest natural harbors in the world. Boats depart daily to the white beaches of the coral island of Zanzibar, known for centuries for its spice trade.  Even today, the old style Arab sailing ships, or dhows, are used to make this journey.   
Tanzania has 14 different National Parks and a lot of nature reserves and conservation areas.
National Parks in the north
Arusha National Park

Mount Kilimanjaro National Park

Serengeti National Park

Tarangire National Park

Lake Manyara National Park 
National Parks in the west
Rubondo Island

Mahale Mountains National Park

Katavi National Park

Gombe Stream National Park
National Parks in the south
 National Parks in the east
Conservation areas and reserves
Additional to the National Parks, Tanzania has a great number of conservation areas which sometimes have an even bigger variety of wildlife than the parks. However, most of the conservation areas are divided in hunting blocks and therefore they are not suitable for photo safaris.
One of the biggest conservation area is the Selous which has a photographic block and a lot of wildlife. It's famous for its vast numbers of elephants, hippos, crocodiles and lions.
Selous Wildlife Resort

Mkomazi National Park

Ngorongoro Conservation

Lukwila Lumesule Resort